Audio Consulting • Editing • Composing
Expert Witness
Chris works as an expert witness and intellectual property consultant for the music industry. He spearheaded the successful effort in the late 1990s by musical instrument manufacturer Roland Corporation to gain copyright protection for its instrument sample library as sound recordings (Roland v. Atmel). Chris has since provided detailed sound analysis for record labels in individual sound sampling cases, as well as larger cases involving mix tapes (UMG v. BCD) and ringtones (Arista et al v. Myxer et al). Crish Design can also offer graphic services to prepare charts and other exhibits for trial.
Download PDF of Chris Meyer's C.V.
Contact Chris for current availability and rates.
Music
We are also both musicians, and worked in the music industry before we migrated to motion graphic design. Trish played synthesizer in a band in Dublin, Ireland in the 1980s; more recently, Chris released an award-winning album under the Alias Zone name (more info to the right).
Chris has also composed music and edited dialog for various clients of Crish Design. His main tools include Digidesign ProTools, Ableton Live, and a large musical sample and sound effects library.
Alias Zone "Lucid Dreams"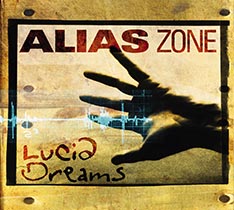 Chris released his "Lucid Dreams" album under the Alias Zone name in 2002. Featuring loops, live improvisations, and dub tactic treatments by: Blake Arnold, Richard Bugg, Chris Meyer, Keith Snyder, Lucky Westfall, and Richard Zvonar.
Lucid Dreams is available at Amazon.com (where you can also listen to song samples).