Online Training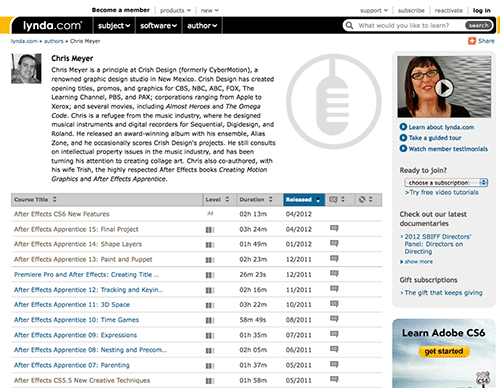 We have created a variety of courses on After Effects (as well as Motion, Final Cut Pro, and CINEMA 4D). Although some courses may also be available through another channel, all of our training courses are primarily distributed by lynda.com. You can also now buy After Effects Apprentice and New Creative Techniques video lessons through Class on Demand (detailed below).
Online Training News
April 2013: Learn about all the exciting motion graphics and visual effects features coming up in After Effects in our After Effects Technology Preview online training course at lynda.com. Adobe revealed these features at the 2013 NAB Show in Las Vegas. In this course, author Chris Meyer reviews the streamlined connection to Maxon CINEMA 4D, highlights the Refine Edge tool for creating mattes around hair and other partially transparent areas, and reveals how to get more accurate tracks and stabilizations with Reverse Stabilization and ground planes. The course also introduces a host of other enhanced features.
May 2012: Focal Press - publisher of our books, including After Effects Apprentice - is now offering our After Effects Apprentice video training series through their partnership with Class on Demand. This means you can now buy After Effects Apprentice video course as either one complete bundle of 15 lessons, or as three smaller bundles (titled 101, 201, 301). Class on Demandis also selling our CS5/CS6 New Creative Techniques courses as a bundle for ($11.95).
April 2012: All of the lessons in the After Effects Apprentice video series are now available on lynda.com. Premium members can also download project files for CS4 and CS5. The series will closely follow Apprentice 2nd edition (CS4), updated for CS5 and CS5.5. For more details, please read our blog post on lynda.com.
After Effects CS6 is an important new release that has something for nearly every AE user: Ray-traced 3D rendering engine, 3D Camera Tracker, Rolling Shutter Repair, Variable Mask Feathering, the Global Performance Cache, and more. Available at lynda.com, After Effects CS6 New Features, is a video training series covered these new features. Nearly all of these videos use exercise files that are included with CMG5 as their starting point.
May 2011: Adobe ships After Effects CS5.5, which includes several significant new features that will be of interest to both motion graphics and visual effects artists - as well as smaller refinements that make everyday work easier. Rather than make you buy an entirely new edition of Creating Motion Graphics to learn them, we've created a series of videos about our favorite new and enhanced features in AE CS5.5. They are being distributed by AdobeTV (free) and lynda.com (at higher resolution). Nearly all of these videos use exercise files that are included with CMG5 as their starting point, so you can easily follow along. We've collected and indexed these movies in our CMG Keyframes blog at ProVideo Coalition.com.
2010: We released After Effects CS5: New Creative Techniques on lynda.com, covering the new features in CS5 that we feel will be of interest to our fellow users. This extensive course includes mini-tutorials on using the new Roto Brush tool plus Adobe Repoussé, as well as Digieffects FreeForm and the combination of mocha v2 and mocha shape. We discuss the implications of After Effects becoming a 64-bit native application, application ideas for the new effects, blending modes, and UI tools, and summarize with who may or may not want to upgrade to CS5. The mocha tutorial plus movies on Repoussé are available for free to all. (Note: Repoussé and Freeform were dropped in CS6.)
Another recent video course is After Effects: Extended Vignette Techniques, available exclusively through lynda.com. Vignettes can be used to better frame your subject, fix a poorly-composed shot, give a vintage feel, blend an image over a new background, or otherwise creatively treat footage.
We also released CINEMA 4D and After Effects Integration, which is available both to lynda.com and Cineversity subscribers. It explains in detail how to move 3D worlds from Maxon's CINEMA 4D into Adobe's After Effects. Exercise files accompany this course.
We've also created an hour of video training on using the new features in AE CS4 for lynda.com. The course is called After Effects CS4: New Creative Techniques. Two of the movies are free online; the remaining 19 are available to Lynda.com subscribers only.
Some of our courses focus on demonstrating universal creative techniques which may employed on a wide variety of jobs, with an emphasis on letting you in on our mental process while we work. We also have a couple of technical courses online, such as detailed studies on how to handle interlacing and 3:2 pulldown.
Our CMG Keyframes blog on ProVideo Coalition also contains a few video tutorials, such as the videos that came on the disc with After Effects Apprentice 2nd Edition, and a demonstration of the workflow between Sonicfire Pro and After Effects.